Emigre recently released a new OpenType version of their best-selling typeface Mrs Eaves, designed by Emigre co-founder Zuzana Licko in 1996. Eccentrifuge was commissioned to build the heavily-featured OpenType version.

¶ From its initial release, Mrs Eaves was easily a candidate for advanced font technology. Unfortunately only Apple Advanced Typography technology, at the time part of what was known as QuickDraw GX, was available in 1996, and there were (and still are) several barriers to using it: no well-established applications could exploit the features in such fonts, and the technology was not available to Windows users. But when the first OpenType discussions occurred in 1997, Mrs Eaves was obviously a candidate by virtue of its many styles and large assortment of ligatures.

¶ In 2001, Licko had just released an updated non-OpenType version of the three-weight family. It added a few new glyphs and ornaments, tweaked a few others at the request of some customers, rearranged the Petite Caps version, and generally expanded the functionality of the font.
¶ Licko designed the petite caps to work inside runs of lowercase text, whereas the small caps were better suited for titles and headings. Emigre expounds further on the design differences.
¶ There are twelve different styles of figures in the Roman font. Eight are shown below. There are also four figure styles each in the Bold and Italic weights.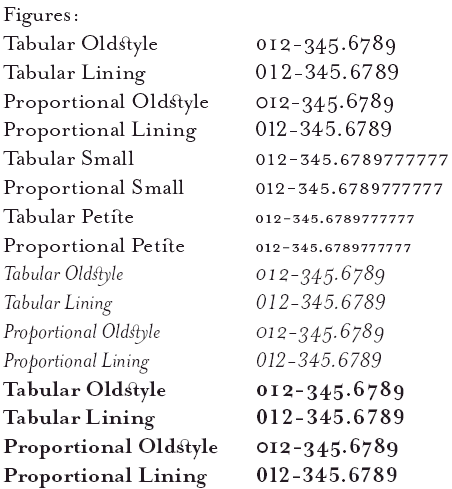 The other four are superior, inferior, and the numerator and denominator styles found in the arbitrary fractions feature. The arbitrary fractions feature unloads the standalone Numerator and Denominator features for other uses. In this case, the standalone Denominator feature is used to activate Petite Caps, and the Numerator feature activates a raised subset of the Petite Caps glyphs suitable for exponents and certain kinds of scientific typography.

¶ Mrs Eaves includes a large set of ligatures. For the original release, Just van Rossum of Letterror wrote a companion Smart Ligatures application for Mac users that would convert copied text into a be-ligatured form and return it to the user in whichever application he was using. The program was compact, elegant, flexible and powerful, although it was only available to Mac users.
¶ In fact, in two major respects, the Smart Ligatures package offers certain functionality not available in the OpenType version: it can automate the replacement of ligatures in older apps such as Quark Xpress, and it can let the user choose exactly which ligatures to use or not to use. In contrast, the OpenType release lets the user activate either the ordinary ligatures (f-ligatures e.g. fi, fl, ffi, ffl, ff, &c) via the normal Ligatures feature or all ligatures at once via the Discretionary Ligatures feature.
¶ Currently the OpenType version is only truly usable inside Adobe InDesign 2.0. Any Emigre customers who need access to the features in other applications should order the original package and the Smart Ligatures set. Those users who have had the chance use well-featured OpenType fonts in InDesign know that it's worth switching to, especially from Quark. But Quark-based workflows are so inerta-laden as to make migration a nontrivial process for now. InDesign's widespread proliferation is still an uphill battle in that respect, but I am confident that it will triumph ultimately over Quark. In the next few months, however, we expect Adobe and Microsoft to release more OpenType feature-savvy applications. In the meantime, the Mrs Eaves OT package can be put to very good use in Adobe InDesign. It is available from Emigre for US$299, or at $149 for registered licensees of the original Mrs. Eaves and Smart Ligatures packages.